CYCLING APPAREL MADE FOR CYCLING ENTHUSIASTS
Sports make us feel alive. Keeps you fit. Keeps us going. When you choose cycling as your sport, it is the beginning of a lifelong love affair. The pure joy of being on two wheels. Blazing down the tarmac on your road bike. The ultimate freedom when fresh air touches your face. The breathtaking views as you pedal your way through endless roads. Have your breath taken away on the steepest climbs.
BikeBaju is all about blurring the lines between high performance and high fashion. Our team continuously pushes the boundaries of how performance cycling gear should look and feel. We design, innovate and put our cycling apparel to the test. We push them to the limits. Built for maximum comfort, support and breathability. Holds you in shape, but never goes out of shape. Or style.
We believe high-quality cycling apparel should not be synonymous with mundane design. Look good and feel good when you are aiming for your next PR breakthrough on Strava. Cycling is more than just a sport, it is a lifestyle, a mantra you live by. Now put on your BikeBaju masterpiece, get out there and show the world what you're made of.
DESIGNED IN SOUTHEAST ASIA, MADE FOR THE WORLD
A new wave of cycling mania is born from the tropics. BikeBaju is proudly designed in Southeast Asia, made for the world. BikeBaju was founded by passionate cyclists with a vision to change the world of cycling jersey attire. Long dominated by the aesthetics of European or Australian brands, we designed BB to bring out the vibrancy of the region where the brand was born. It is our pride and glory, an ode to our culture and cycling scene.
Gone are the days of minimalism and subtle colour blocks. Welcome to the new era of cycling apparel with BikeBaju. Be Bold! Be outstanding like the BB you're meant to be. Life's too short for boring gear. Wear your identity on your sleeve. Loud and proud. Nothing to hide.
Our community is made of passionate people from all walks of life. Men and women. All body shapes and sizes. All ethnic groups. Sports know no colour. But our designer race-cut cycling jerseys boast a spectrum of colours guaranteed to help anyone Stand Out & Be Seen. Be your most confident self. Break out of mundane everyday life and go on adventures on your road bike. Create priceless moments in your favourite attention-grabbing masterpiece. Put them on Instagram. Connect and share the joy with like-minded cycling enthusiasts.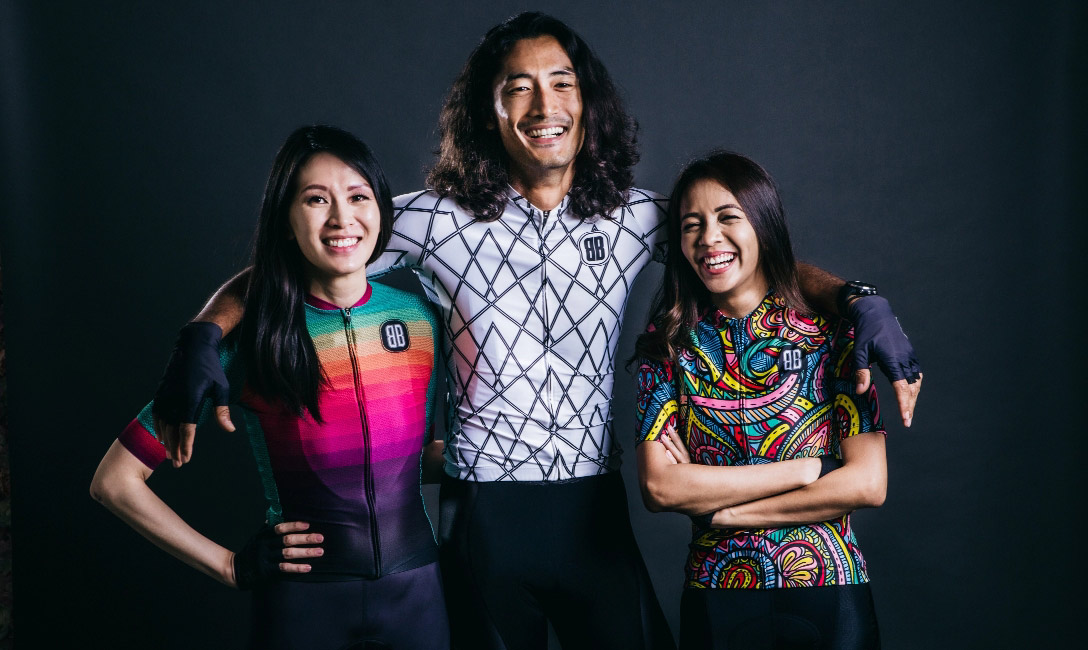 Sorry, there is no product in this collection