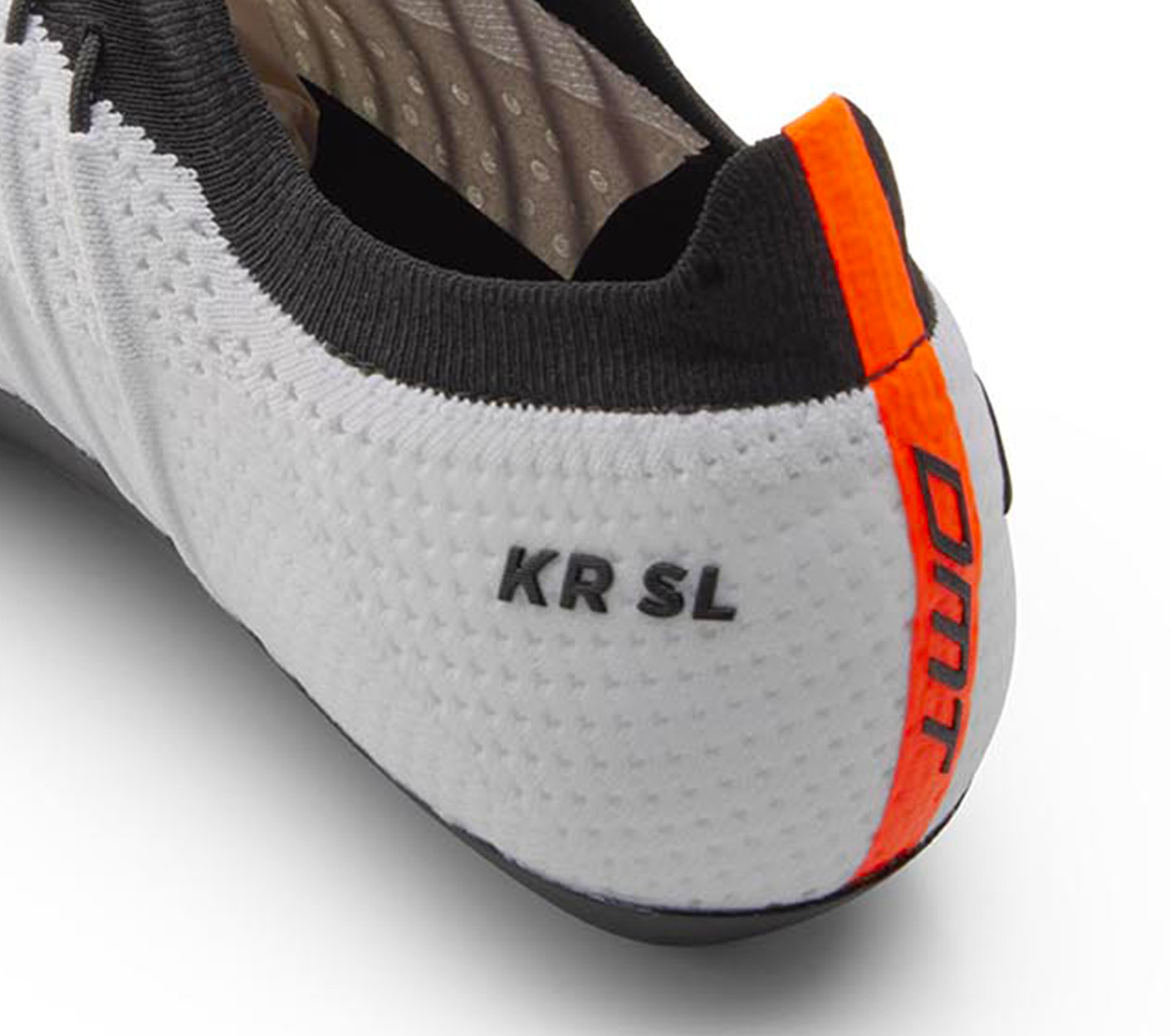 KRSL
THE FASTEST LACE SHOE ON THE PLANET.

Product description
DMT KRSL Road Shoes
This is the evolution of the shoe that Tadej Pogačar wore on his impressive ride to victory at the 2020 Tour de France.

Innovative construction with a full one piece seamless upper and a reinterpretation on the classic lace closure. Exceptional comfort, light, breathable, proprietary Engineered Knit construction eliminates pressure points, fits like a glove and is super breathable. Updated and race tested by Tadej with the new Anatomic SL sole and even a lighter upper.

Features:

- Full Engineered 3D knit ultralight upper
- Variable thickness and knit structures for ultimate comfort
- Integrated cable lace eyelets
- Anatomic Carbon SL outsole
- 8mm front-rear cleat adjustability

Specifications:

- Weight: 205g

Technology:
3d Knit:
- In The Space Of A Few Years, Sports Shoes Have Undergone A Real Revolution Thanks To The Knitted Structure And Have Become The Standard In Sports Such As Running And Football.
- The Reasons For These Changes Are Simply A Better Fit, Greater Comfort And Excellent Breathability.
Dmt Has Been Producing Knitted Footwear For Important Sports Brands For More Than 10-Years; In 2018, After 12 Months Of Development, We Transferred This New Technology To The World Of Cycling With The First Shoe With A Fully Knit Upper.
- Today We Have Extended The Use Of Engineered 3d Knit Technology To The Whole Dmt 2022 Collection.
- Engineered Knit Construction Changes The Way That Cycling Shoes Fit And Feel.
- Literally the next generation of footwear technology. At DMT, we are specialists in producing technical knit footwear. Working with the most demanding athletes we have ensured that there is no compromise between comfort and performance.
- Using technical yarns and specific Engineered Knit structures, we match the exact needs for each style of cycling and each zone of the shoe. Trying on a pair of DMT knit shoes will completely change the way that you think of cycling footwear. Light, less bulky, excellent fit, superior breathability and fast drying. With no compromise between fit and support thanks to the slightly elastic construction, our goal is that you forget that you are even wearing shoes on your next ride.

Michelin®:
- Excellent traction and grip combined with durability make soles with Michelin® rubber compounds a natural choice for the rigors of mountain biking. With half of the DMT mountain bike shoes featuring Michelin® rubber compounds the benefits are clear.

Care And Manteinance:

To Do:
- To Do Icon
- Clean with a mild soap or a damp cloth.
- Store in a cool, dry and well-ventilated place. No direct sunlight.
- After riding in wet conditions stuff the shoes with newspaper to reduce the moisture.
- Make sure that wet shoes can dry in a warm not hot area with good air circulation and out of direct sunlight.
- If the shoes are not damp or wet after use, simply clean them with a mild soap or cloth.
- If the shoes are equipped Boa fit systems, clean them carefully and regularly apply a silicone-based or similar lubricant.

Not to Do:
- Not To Do Icon
- Do not use solvents, paint thinner or harsh chemicals.
- We do not recommend putting your shoes in a washing machine; might be a good and fun option but the carbon sole and the steel small parts might damage the machine.
- When drying, never place near or next to heaters, laundry dryer, fire or other sources of heat.