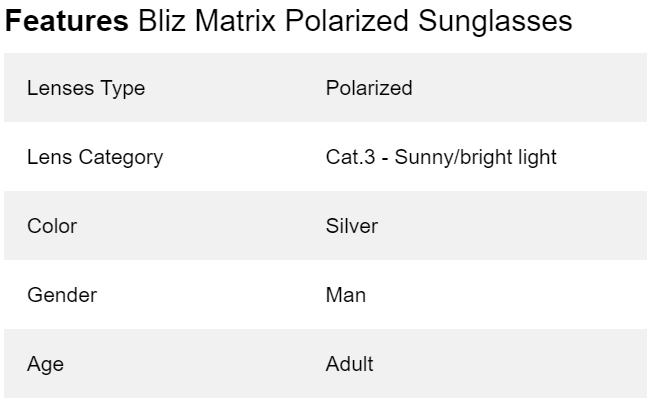 Product description Bliz Matrix Polarized Sunglasses
Unleash your inner powers with Matrix. A model that's perfect for cycling, cross country skiing and other multisports. With Matrix you never miss anything. Wide cylindrical field of view and smart ventilation always provides the best possible vision.

Matrix is equipped with Hydro Lens Tech™. A lens in X-PC with high optical quality for clear vision in different weather conditions. You get the best possible comfort with an adjustable nose pad and adjustable temples. Matrix is built with your performance in mind.


Features:

General properties:
- Matrix is the model where performance and attitude fight for pole position. A model available in a wide range of fierce looking color combinations, with zero compromise when it comes to function. Matrix is a unisex model that best fits average sized faces. Take on demanding challenges with total confidence. You can trust Matrix to provide a lot. Fantastically comfortable to wear, unbeatable field of view and - last but not least - admiring looks from people around you.

Lens properties:
- Matrix is equipped with Hydro Lens Technology™. A lens in X-PC with high optical quality for clear and crisp vision in different weather conditions. The lens has complete UV protection, minimal refraction, anti-scratch and hydrophobic qualities.

Materials:
- Matrix is made from Grilamid TR90, a material that provides unbeatable flexibility and low weight. Matrix only weighs 34 grams. The high tech material is just as comfortable to wear in low as in high temperatures.

Adjustment possibilities:
- With Matrix it's always easy to find what's right for you. You are always ready for the next challenge. The temples can be adjusted to find the best fit. Adjustable nose pad keeps your glasses in place. The lens can easily be switched to a different one with a different color and filter category (can be bought seperately).

CE Standard:
- All Bliz Active products are CE-marked which means that we follow the basic health- and safety demands which can be found in the EU- Directives. You can find this manual in the product box.

100% UV-Protection:
- Bliz Active Eyewear protect your eyes efficiently against harmful UVA and UVB-rays.

Unbreakable Polycarbonate Lens:
- The lenses are made of Unbreakable Polycarbonate which are 10 times more impact resistant than plastic or glass lenses and offers the highest degree of protection.

Grilamid TR90:
- This highly flexible high-tech material provides very low weight and excellent performance in any weather condition.

Hydro Lens System™:
- Bliz Hydro Lens Technology™ A lens that´s delivers Perfect Curve, Max UV-Protection, X-PC Shatter Proof, Hydrophobic, Anti Scratch and when desired Multicoating or Polarized in one great lens.

Rubber Wire Core:
- The temples in Rubber Wire Core allows you to adjust the glasses for a more tight fit around your head.

Adjustable Nose Pad:
- The nose pad is adjustable for a more comfortable and optimal fit around your nose.